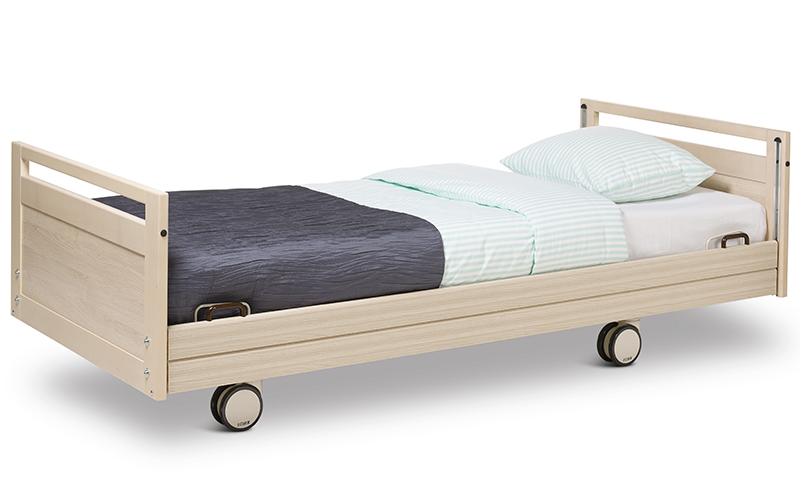 ScanAfia XHS Nursing Bed
New modern design
Main features:
1. High load capacity, SWL 260 kg
2. Low bed height (from 32 cm) improves patient safety and independence
3. Back section sliding mechanism prevents patient slipping downwards and improves comfort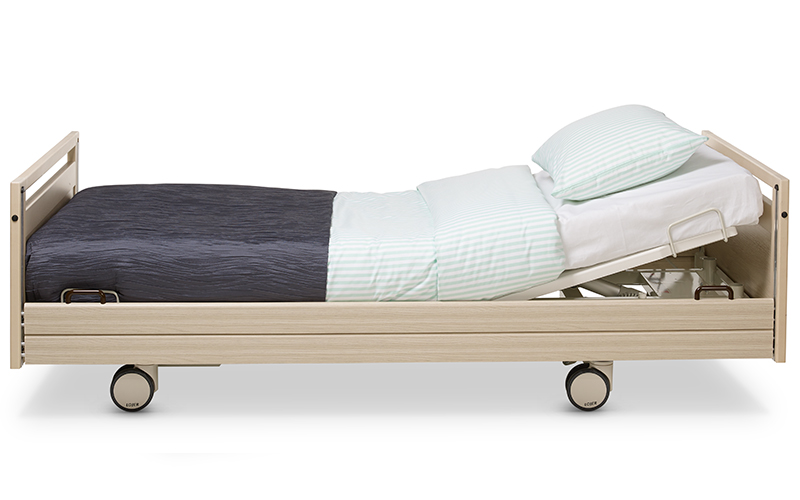 About
The ScanAfia XHS nursing bed is the quality choice for the healthcare professional. The patented bed has been specifically designed for nursing homes, senior homes and for in-home care, where easy to use, reliable beds are particularly ppreciated. Industrial designer Mari Alahuhtala has designed the wooden façade of the bed to cater for Scandinavian tastes using light shades, geometrically uncluttered lines and natural materials.
Although able to take up to 260 kg weight (SWL), the ScanAfia XHS is lightweight and easy to manoeuvre, thanks to the 125 mm wheels fitted as standard. The ergonomics of both the carer and the patient were primary considerations when designing the table; its exceptionally low minimum height makes the carer's work easier and gives the patient more independence. The back section sliding mechanism also makes the bed more pleasant to use for the patient. Our many years' experience in designing and manufacturing hospital and nursing beds ensures that the ScanAfia XHS is made for long-term use with minimal maintenance.
The base of the bed is made of hygienic ABS plastic with breathing holes. This base structure allows the foam mattress to retain its characteristics better than it would with a traditional mesh base. The base boards can easily be removed for disinfecting.
The ScanAfia nursing bed can be combined with our range of tables and chairs, creating a harmonious décor without compromising functionality. The solid wood bed ends give the bed a longer life cycle than standard beds. Our high quality epoxy coating also contributes to the long lifespan of our beds – we are the only manufacturer to abrasive blast steel components before painting. Indeed, modern design, quality Finnish workmanship and details designed together with healthcare professionals are some of the factors that have made ScanAfia beds so popular.
The bed features a safe 24V low voltage electrical system, and its electrical motors and control units are splash resistant. Beds can be fitted with a separate nurse panel as an optional extra, allowing the functions of the bed to be restricted to nurse control only if necessary. The design of the bed is based on the new 60601-1-52 nursing bed standard and the range has been impartially tested in an independent laboratory. The bed has been fire tested according to SL1. 
All ScanAfia nursing beds are easy to move thanks to their safe, practical, centrally lockable wheels, which can be directionally locked.
The Range
ScanAfia XHS -280/290
2-part bed section (205 X 80/90 cm), with electrical height and back section adjustment
ScanAfia XHS -480/490
4-part bed section (205 X 80/90 cm), with electric height, back section, thigh section and calf section adjustment.

Technical standard features:
Solid wood bed ends (pictures show our newest option, white oak. Also available with Classic bed ends in beech or maple color)
Double-locking wooden sides with a locking button (pair)
Electric height and back section adjustment with hand control (models: ScanAfia X HS-280 and ScanAfia X HS-290)
Electric height, back section, thigh section and calf section adjustment with hand control (models: ScanAfia X HS-480 and ScanAfia X HS-490)
Emergency lowering function on the back section
Centrally lockable castors Ø125 mm with directional wheel
Integrated fixings for 2 lifting poles and IV stand
Fixings in the base plate for restraining straps (holes)
Removable, easy to clean base plates with mattress attachments
Vertical movement of bed section lessens space requirement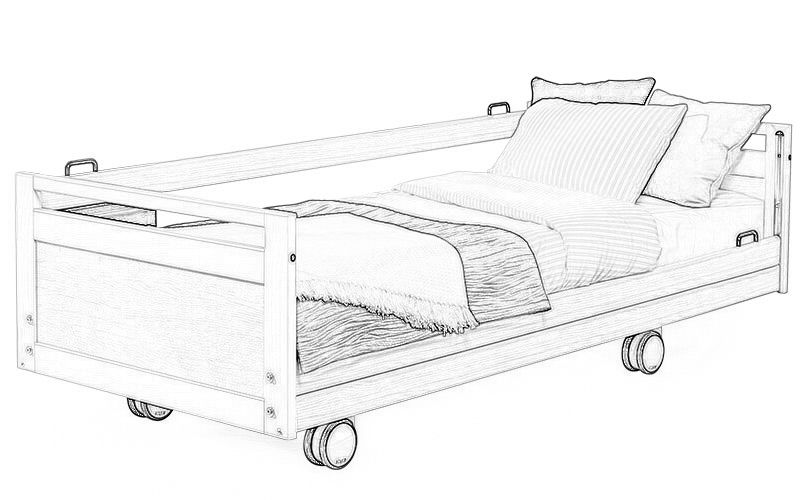 Overall width with rails
92 cm or 102 cm
Overall length
217 cm
Long model: 227 cm
Height adjustment range
Min. 32 cm - max. 82 cm (depending on the castor size and type)
Recommended mattress size
78 - 80 cm or 88 - 90 cm x 205 cm x 9 - 13 cm
Total weight
130 - 132 kg
Castors
Ø125 mm locking castors with directional wheel
Safe Working Load (SWL)
260 kg
Electrical system
24V
Back section adjustment
70°
Thigh section adjustment
30°
Calf section adjustment
11°
Anti-Trendelenburg (optional)
20°
CE–marked
Yes
Warranty
2 years
Country of Manufacture
Finland
Products from this category