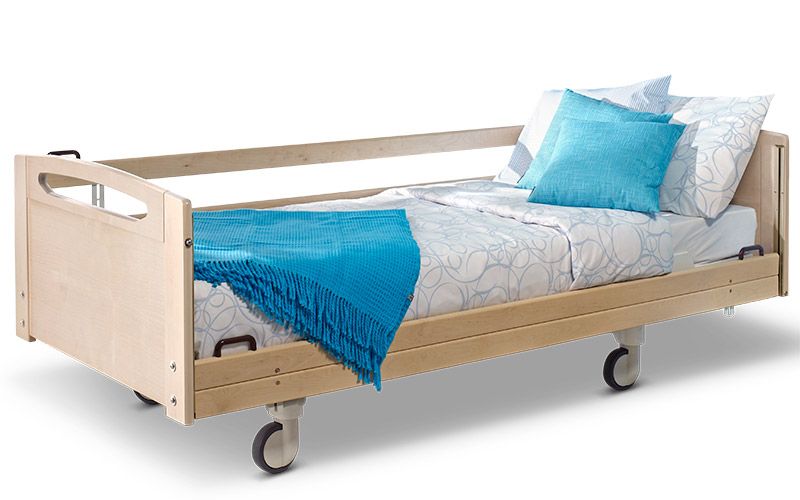 ScanAfia Pro Nursing Bed
The best-selling nursing bed in Finland
Main features:
1. Designed keeping narrow doorways in mind
2. Solid wood bed ends and removable, hygienic ABS plastic base structure
3. Designed for long-term use with low life cycle costs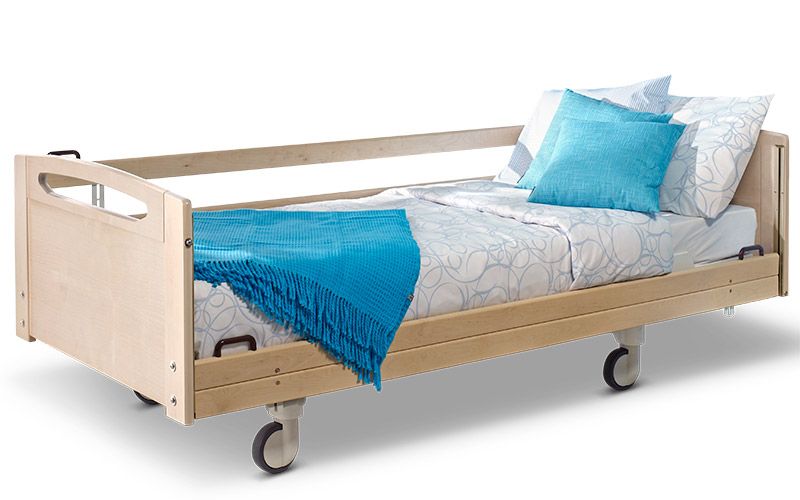 About
Lojer's Finnish-made ScanAfia PRO nursing beds are suitable for use in care homes, residential homes and home environments – wherever easy to use and reliable nursing beds are required. An impressive height adjustment range and wide range of accessories make the beds ideal for supporting safe recuperation and wellness whilst making work easier for carers.
The base of the bed is made of hygienic ABS plastic with breathing holes. The foam mattress retains its qualities better on this kind of base than on a traditional mesh base. The base is easy to remove for cleaning and disinfecting.
The ScanAfia nursing bed allows stylish, quality interior décor without compromising functionality, co-ordinating perfectly with our range of bedside furniture and chairs. The bed ends are made of solid wood, giving a longer life than normal beds. The high-quality epoxy coating ensures a long service life; we are the only manufacturer to treat our steel parts with abrasive blasting before epoxy coating. Modern design, quality Finnish manufacturing and attention to detail developed together with healthcare professionals combine to explain the popularity of ScanAfia beds.
The ScanAfia nursing bed features a safe 24V low-voltage electrical system, and the motors and control modules are splash-proof and double insulated for safety. The beds can be equipped with an optional nurse control panel, which enables nursing staff to lock the functions of the bed if necessary in order to prevent the patient making adjustments. The bed has been designed in accordance with EU nursing bed standards, and the range has been independently tested and approved by the Technical Research Centre of Finland (VTT). The bed has been fire tested according to SL1. 
All ScanAfia nursing beds are fitted with practical, safe centrally lockable and direction lockable wheels. The beds are easy to move; despite their sturdy construction, the beds weigh less than 100 kg.
The Range
ScanAfia PRO HS-280/290
2-part bed section with electrical height and back section adjustment
ScanAfia PRO HS-480/490
4-part bed section with electric height, back section, thigh section and calf section adjustment.

Technical standard features:
Solid wood bed-ends
Double-locking wooden siderails with locking button (pair)
Electric height and back section adjustment with hand control (1332HS280 and 1332HS290)
Electric height, back section, thigh section and calf section adjustment with hand control (1332HS480 and 1332HS490)
Central locking castors Ø125 mm and direction wheel
Integrated fixings for 2 lifting poles and IV-pole
Removable, hygienic ABS plastic base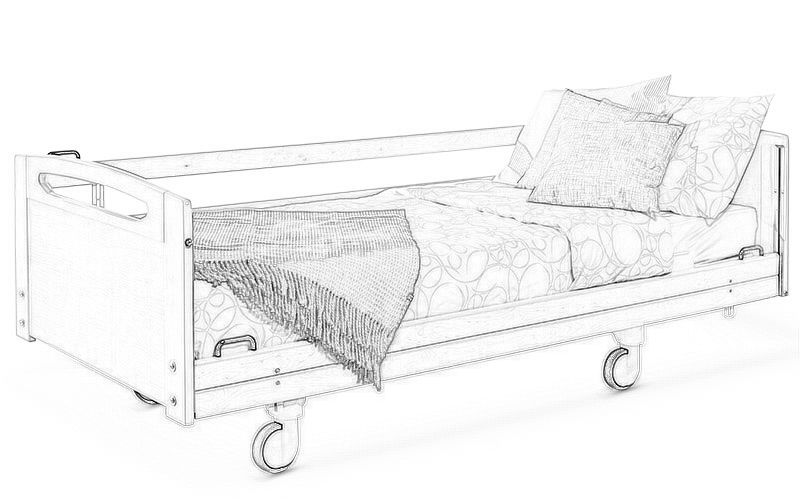 Overall width with rails
90 or 100cm
Overall length
216 cm
Height adjustment range
Min. 35 cm - max. 75 cm (depending on the castor size and type)
Recommended mattress size
78 - 80 or 88 - 90 x 205 x 9 - 13 cm
Long model: 78 - 80 or 88 - 90 x 215 x 9 - 13 cm
Total weight (inc. rails)
96 kg - 100 kg
Castors
Ø125 mm central locking castors with directional wheel
Safe Working Load (SWL)
225 kg
Electrical system
24 V
Back section adjustment
70°
Thigh section adjustment
27° (only 4-part models)
Calf section adjustment
10° (only 4-part models)
CE–marked
Yes
Warranty
2 years
Country of Manufacture
Finland
Products from this category