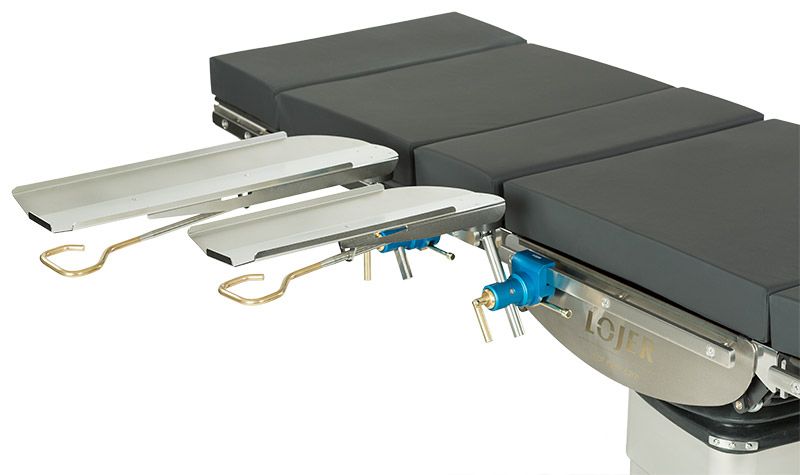 Armboards & Arm and Hand Surgery Tables
Our range includes arm supports from fixed basic models to one-hand adjustable ball joint models. Separate straps are also available for armboards to ensure that the patient's arm remains on the armboard during the procedure. The adjustment handle on adjustable models and rail clamps (fitted as standard to arm supports) are made of antimicrobial material (EPA approved brass).
Our high quality viscoelastic (VEF) padding with two-layer structure is recommended for use with the armboard. The material helps prevent different kinds of depressions and nerve damage, is pleasant to use and easy to keep clean. The polyurethane (PU) surface material is antibacterial, anti-static, fire retardant, skin-friendly, moisture resistant and able to withstand disinfectants. The armboard can alternatively be equipped with a moulded padding which is durable, easy to clean and anti-static.
Our range of arm and hand surgery tables includes a straight model and a unique, ergonomically hourglass shaped model.
The materials for our arm and hand surgery tables have been selected to allow optimal x-ray quality. The adjustment knobs on the legs of arm and hand surgery tables are made of antimicrobial brass. Arm and hand surgery tables require a separate padding, which features high quality antibacterial, anti-static and moisture resistant PU surface material.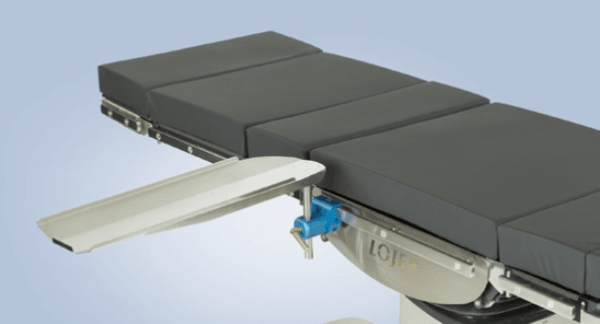 AB1110
Armboard standard with clamp
- fixed, simple and user-friendly armboard with Easy clamp
- height and horizontal adjustment
length: 620 mm
width: 170 mm
rod: 150 mm
Required cushions: AB3010/ AB3110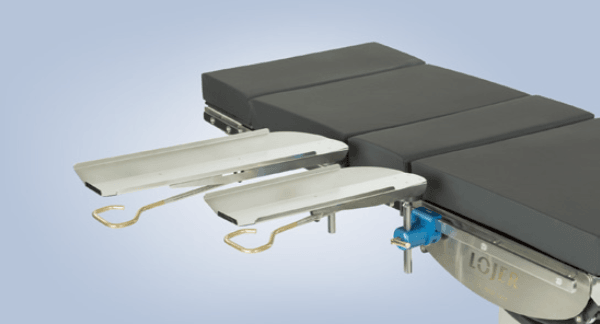 AB2110 Armboard with clamp
AB2120 Armboard with clamp, short
- one-handed adjustment armboard with Easy clamp
- wide range of height and angle adjustment with ball joint
- antimicrobial adjustment handle
length: 620/470 mm
width: 170 mm
rod: 150 mm
Required cushions: AB3010/ AB3110, short AB3020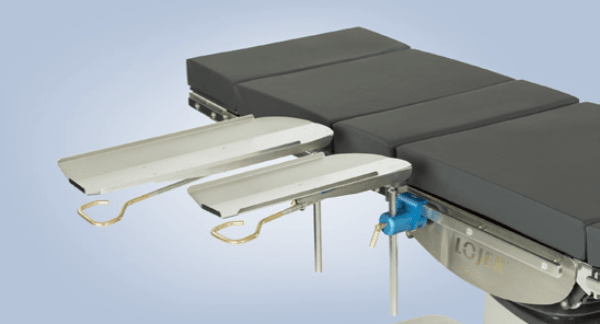 AB2130 Armboard with clamp
AB2140 Armboard with clamp, short
- long rod model
- one-handed adjustment armboard with Easy clamp
- wide range of height and angle adjustment with ball joint
- antimicrobial adjustment handle
length: 620/ 470 mm
width: 170 mm
rod: 280 mm
Required cushions: AB3010/ AB3110, short AB3020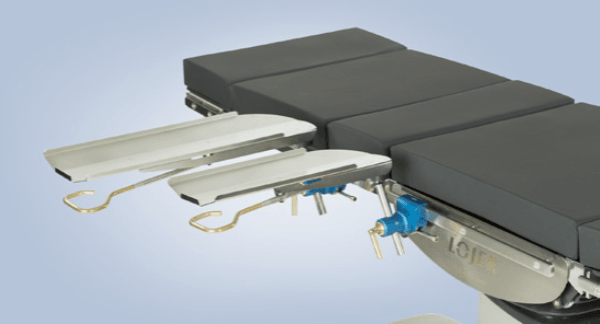 AB2210 Armboard with rotation clamp
AB2220 Armboard with rotation clamp, short
- one-handed adjustment armboard with rotation clamp
- versatile adjustment options; height, horizontal and vertical
rotation, wide range of angle adjustments
- antimicrobial adjustment handle
length: 620/ 470 mm
width: 170 mm
rod: 150 mm
Required cushions: AB3010/ AB3110, short AB3020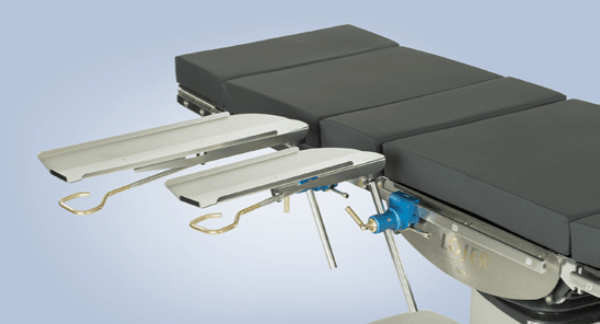 AB2230 Armboard with rotation clamp
AB2240 Armboard with rotation clamp, short
- long rod model
- one-handed adjustment armboard with rotation clamp
- versatile adjustment options; height, horizontal and vertical
rotation, wide range of angle adjustments
- antimicrobial adjustment handle
length: 620/ 470 mm
width: 170 mm
rod: 280 mm
Required cushions: AB3010/ AB3110, short AB3020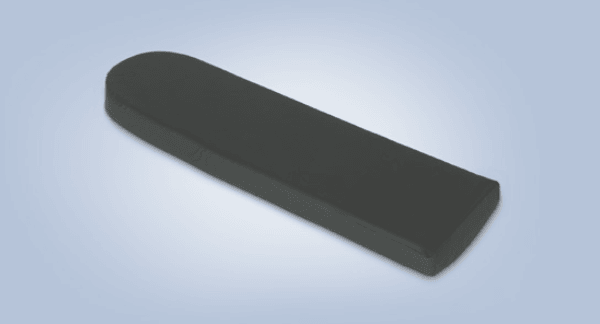 AB3010
Premium cushion for armboard VEF
- premium armboard cushion with viscoelastic top layer
- two-layer structure prevents nerve damage and relieves
pressure
- velcro fastening
length: 625 mm
width: 170 mm
thickness: 50 mm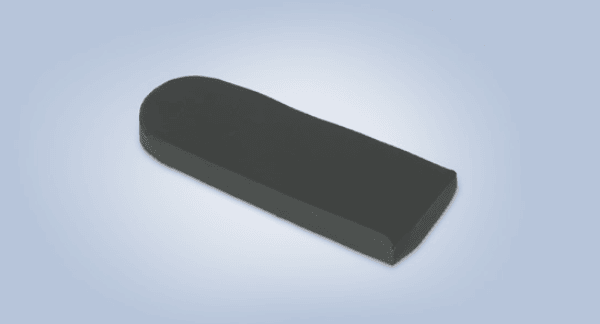 AB3020
Premium cushion for armboard VEF, short
- premium armboard cushion with viscoelastic top layer
- two-layer structure prevents nerve damage and relieves
pressure
- velcro fastening
length: 475 mm
width: 170 mm
thickness: 50 mm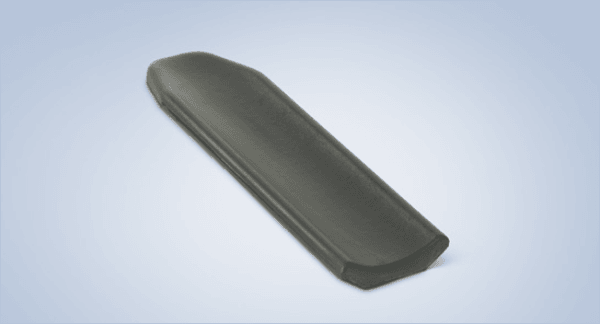 AB3110
Cushion for armboard, moulded
- concave surface and moulded polyurethane cushion
- latex-free
length: 625 mm
width: 170 mm
thickness: 25 mm
ARM AND HAND SURGERY TABLES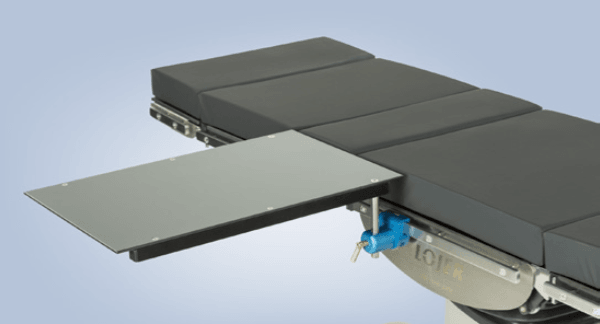 AB5010
Arm and hand table
- light and user-friendly arm and hand surgery table with
two Easy clamps CL2010
- table top enables fluoroscopy, X-ray imaging area in the
middle of table 350 mm
- height adjustable
width: 400 mm • length: 650 mm • rod: 135 mm
Required mattress: AB6010
AB5101 Supporting leg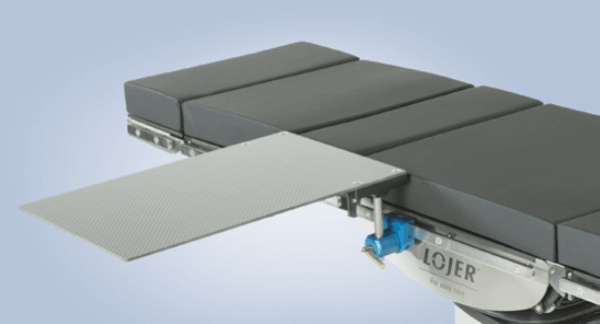 AB5050
Arm and hand table, carbon fibre
- carbon fibre arm and hand surgery table with two
Easy clamps CL2010
- facilitates extensive surgical X-ray fluoroscopy procedures
- height adjustable
width: 400 mm • length: 650 mm • rod: 135 mm
Required mattress: AB6010
AB5101 Supporting leg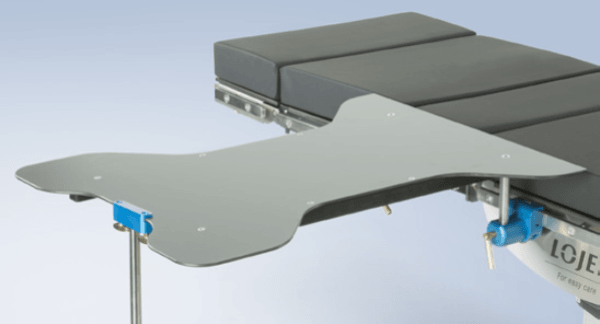 AB5100
Arm and hand table, shaped
- versatile arm and hand operating table with height-adjustable
supporting leg (AB5101) and two Easy clamps CL2010
- provides support for surgeon on each side and allows up
to 3 people working around the table
- table top enables fluoroscopy, X-ray imaging area in the
middle of table 300 mm
- height adjustable
width: 600 m • length: 800 mm • rod: 135 mm
Required mattress: AB6020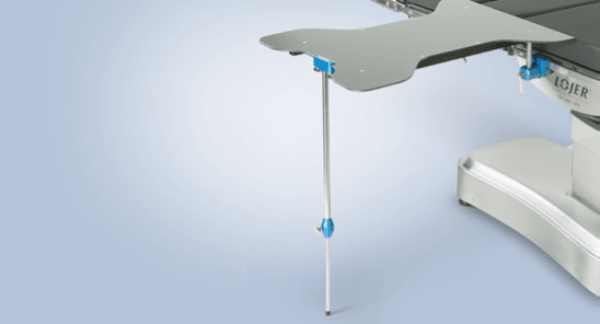 AB5101
Supporting leg
- sturdy, user-friendly supporting leg
- can be attached to the table top of arm and hand surgery
tables
- antimicrobial tightening knobs
- height adjustable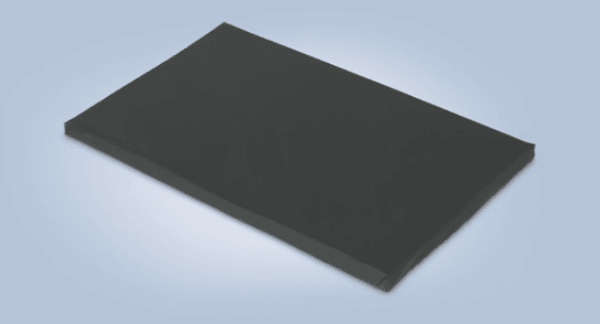 AB6010
Mattress for arm and hand table
- high resilience foam mattress
- velcro fastening
width: 410 mm
length: 660 mm
thickness: 30 mm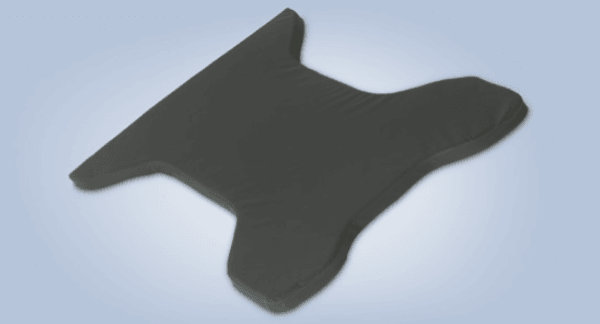 AB6020
Mattress for arm and hand table, shaped
- high resilience foam mattress
- velcro fastening
width: 610 mm
length: 810 mm
thickness: 30 mm
Products from this category