Afia 4060 Gynaecological Examination Chair
Flexible and easy adjustments
Main features:
1. Motorised height, back section and seat section adjustment
2. Small footprint: overall length 140 cm
3. Motorised Trendelenburg position adjustment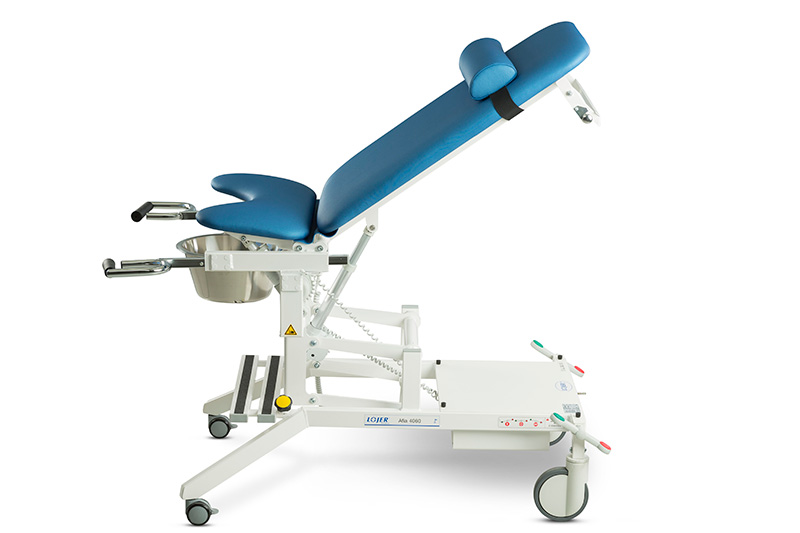 The Afia 4060 is an easy to use examination chair that has been developed specifically for gynaecological and urological procedures. It features a two-part top, flexible and easy to use adjustment options and a good level of equipment as standard, such as a neck pillow and paper roll holder. The chairs are available in several upholstery options and colors. 
The 4060 features electric height adjustment as well as seat section and back section adjustment with a hand control. The chair can also be used in the Trendelenburg position.

Technical standard features:
Electrical height, back section and seat section adjustment with hand control
Electrical Trendelenburg adjustment
Adjustable heel supports
Gynaecological bowl, includes fixings and adjustment parts
Castors
Paper roll holder
Neck pillow
Multiple upholstery colors and several high-quality upholstery materials available
| | |
| --- | --- |
| Height adjustment | 61 - 98 cm |
| Upholstery width | 59 cm |
| Upholstery length | 122 cm |
| Back section length | 87 cm |
| Seat section length | 31 cm |
| Back section adjustment | -7 - +70° |
| Seat section adjustment | 0 - 25° |
| Electrical Trendelenburg adjustment | 0 - 7° |
| Total weight | 75 kg |
| Safe Working Load (SWL) | 150 kg |
| Castors | 2 x 65 mm, 2 x 150 mm |
| Electric system | 24V |
| CE -marking | Yes |
| Country of Manufacture | Finland |
Products from this category