Main features:
1. The patient surface width (up to 100cm) together with a thick upholstery ensure a pleasant experience 
2. A very high safe working load (SWL) of 300kg and new features improve patient safety
3. Height adjustment range of 42 – 97 cm helps patients and makes working more ergonomic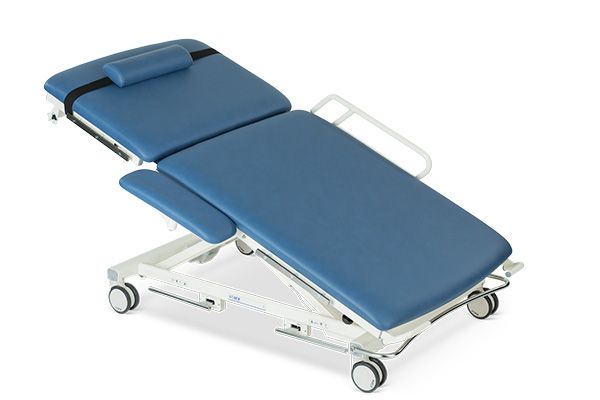 The new 4040XL is an excellent choice for all healthcare facilities that need to treat also overweight and obese patients. Its patented construction and extremely low minimum height ensure that even patients with wheelchair or obese patients are able to get up onto the table with ease. High maximum height improves ergonomics of the care providers. The patient surface width together with a thick upholstery (foam 6 cm) provide very pleasant experience for the patient. The default patient surface width is 90 cm (80 cm and 100 cm as options). 
In all Lojer products patient safety is of utmost importance. The 4040XL has a new safety feature: the table top rises automatically if there's something caught between the mechanism. The very high safe working load (SWL) of 300 kg makes it safe to treat also bariatric patients in all positions and heights. 
The 4040XL examination table has a new digital control unit, which notifies user of maintenance need. It also allows locking up the table with the hand control. The table features a paper roll holder and cutter as standard, as well as an adapter for fitting an IV-stand (6 possible fitting positions). A two-piece hands-free height adjustment bar is available as an option, enabling the table height and back section to be adjusted ergonomically and hygienically from both sides of the table by foot. Also electric Trendelenburg and anti-Trendelenburg are available as options. 

Technical standard features:
Electric height and back section adjustment with hand control
Upholstery thickness 75 mm (foam 60 mm)
Paper roll holder and cutter for 80 cm paper
Adapter for fitting an IV-stand (6 possible fitting positions)
Locking castors ø125mm
Safety feature: lock function by pressing buttons on hand control for 3 sec
Multiple upholstery colors and several high-quality upholstery materials available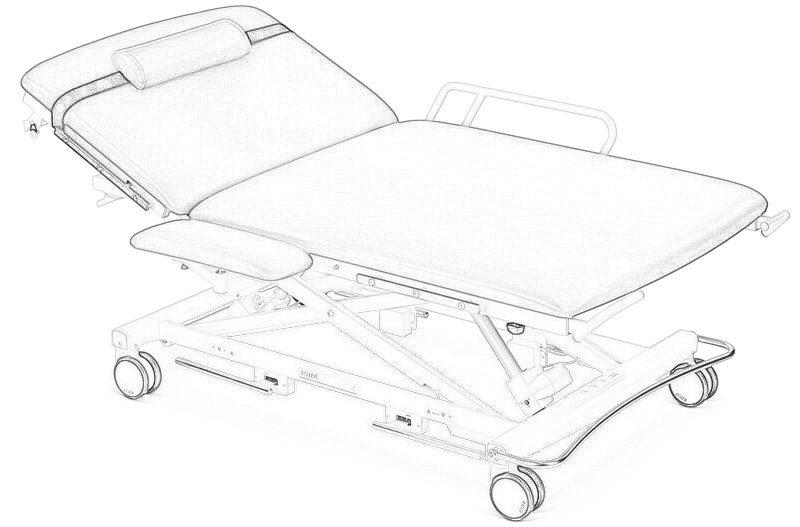 Total width (upholstery 80 cm)
80 cm
Total width (upholstery 90 cm)
95 cm
Total width (upholstery 100 cm)
100 cm
Patient surface width
90 cm
(80 / 100 cm optional)
Total length
200 cm
Patient surface length
200 cm
Total weight
120 kg
Height adjustment
42 - 97 cm
Back section length
70 cm
Back section adjustment
73°
Electric Trendelenburg and
anti-Trendelenburg adjustment (optional)
max. 20°
Castors
Locking Ø125 mm
Safe working load (SWL)
300 kg
Electric system
24V
IPX6
CE -marking
Yes
Warranty
2 years
Country of Manufacture
Finland
Products from this category