Main features:
1. Extremely wide range of Hi-Lo adjustment
2. Electronic Tilt up / Tilt down function for gravity-based treatment; also enabling easier access for patients onto the table. Spinal decompression has never been this efficient and pleasant for the patient!
3. Adjustable legs with support paws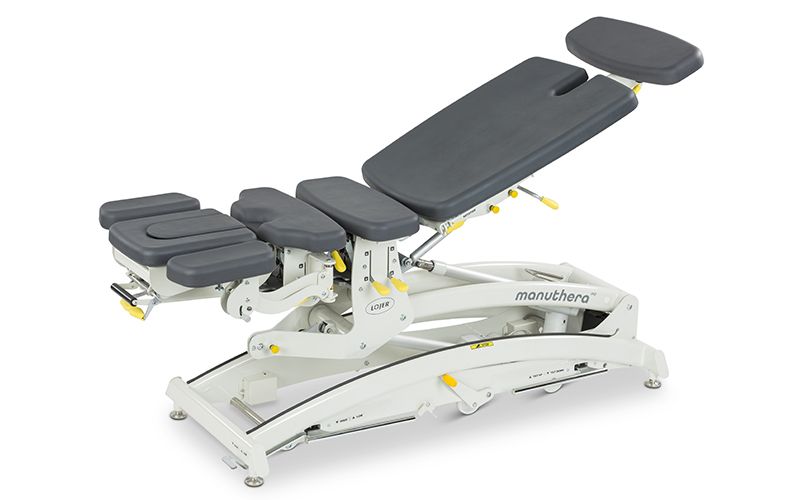 Featuring unique patented technology designed by Finnish experts, the Manuthera® 242 mobilisation and manipulation table supports the therapist's work and ensures the best possible diagnosis and treatment for patients. Manuthera 242 is an all-in-one treatment table for demanding examination and treatment use by various manual therapists, such as sports massage therapists, naprapaths, osteopaths, OMT physiotherapists, physiotherapists and chiropractors. Manuthera 242 takes the therapist's work to a new level and supports countless treatment and diagnosis methods thanks to its patented operation system based on two synchronised motors, unique multi-traction features and various other functionalities, as well as its structure. The patient can be moved to therapeutic and anatomical key positions smoothly and quietly. Mobility treatment can be carried out 3-dimensionally using the traction, flexion, lateral flexion and rotation features of the table, as well as gravity. The table design, twin motor system and the frame with bearings in all moving parts enhance the ergonomics of the therapist's work and make it less burdening, which enables even better treatment results.

Lojer has been awarded the Fennia Prize for IPR Excellence in January 2017, in recognition of their commendable use and protection of their intellectual property rights with regard to the Manuthera treatment table.  The organisers commended the diverse ways in which Lojer has acted to secure their intellectual property rights internationally. The same competition saw Lojer receive an honourable mention for the innovative product design and advanced technical design of the Manuthera treatment table.
The Fennia Prize is a Finnish design competition in which businesses and organisations receive recognition for exemplary use of design as part of their business operations. The IPR (Intellectual Property Rights) prize is part of the Fennia Prize and is awarded by the Finnish Patent and Registration Office for commendable leveraging of intellectual property rights. Lojer's Manuthera treatment table is the first physiotherapy product to receive an award in the Fennia Prize competition.

Technical standard features:
Easy-to-use, sturdy and ergonomic knobs for locking the movement to the desired position
NEW: drop function New technology: traction drop, which enables easier and more diverse hip area manipulation
Arm rests with stepless height adjustment and lateral movement. The arm rests can be attached to the side to function as side supports
Front and back total lock supports provide additional support for burdening treatment techniques and make the table very sturdy in every section
Safety edge stops all table adjustments from being touched
Easy-care, durable, bio-compatible soft moulded lying surface
Easy-to-use, sturdy and ergonomic knobs for locking the movement to the desired position
NEW: drop function New technology: traction drop, which enables easier and more diverse hip area manipulation
Arm rests with stepless height adjustment and lateral movement. The arm rests can be attached to the side to function as side supports
Front and back total lock supports provide additional support for burdening treatment techniques and make the table very sturdy in every section
Safety edge stops all table adjustments from being touched
Easy-care, durable, bio-compatible soft moulded lying surface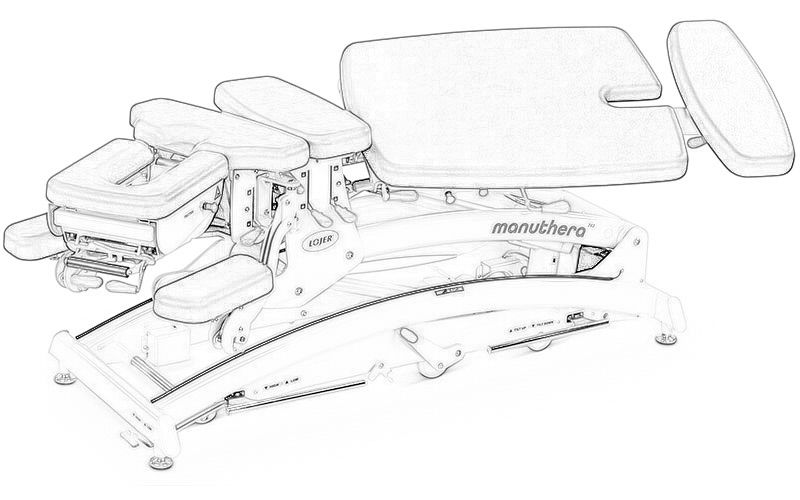 Total length
190 cm
Total width
54 cm
Lying surface
Soft moulded -mattress
Height adjustment (hi-lo)
49..105 cm
Tilt Up / Down
Electrical 52°/32°
Head section
movement (3D)

+35°/-35° (vertical)
0..18° (horizontal)
50° (forward tilt)
+28 cm/- 5 cm (height adjustment of the horizontal plane)
0..6 cm (traction)

Arm support movement
+3..-23 cm (vertical)
Upper thorax -section
movement (3D)

+15°/-13° (vertical)
0..18° (horizontal)

Lower body section
movement (3D)

+21,5°/max -40° (vertical)
0..18° (horizontal)
0..20° (rotation)
0..8 cm (traction)

Foot support movement
0..85° ( vertical)
0..90° (foot rest tilt)
Safe working load (SWL)
150 kg
Total weight
170 kg
Electrical system (2 only push actuators)
24V
Warranty
2 years
Country of manufacture
Finland
CE-marking (MDD)
Yes
Products from this category