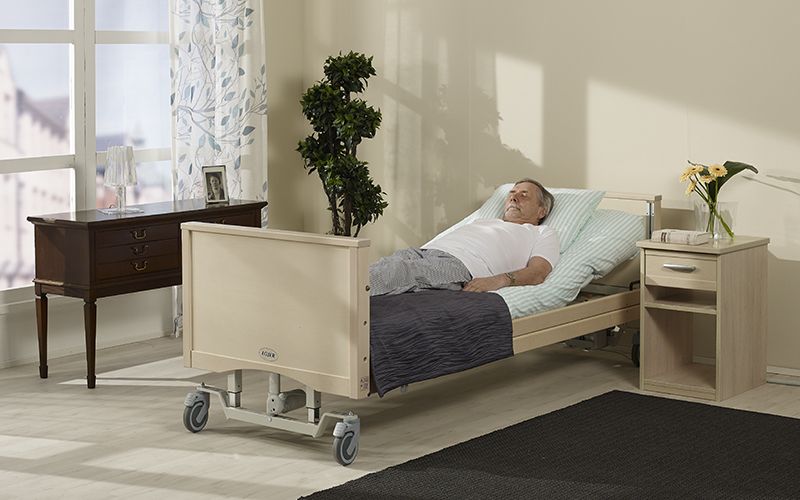 Rental beds for terminal care patients in Helsinki
Every year, 15,000 Finns need palliative care. About half of them want to spend their last days at home in a familiar environment, with their loved ones. Helsinki had provided care beds for home patients already in the past, but the city wanted to improve its process and organized a public tender for rental beds. Lojer Oy was chosen as the supplier. The co-operation started in August 2013.
"The Modux folding care bed is well suited for the needs of home care", says Jouni Maksimainen, Sales Director at Lojer.
- When folded, it is an easy bed to carry. It can fit into a small elevator and through narrow doors. The bed folds and unfolds using electric motors at the press of a button and no tools are required. In addition to the bed, we also provide a mattress that meets customer's needs.
Working with Lojer
Department secretary and nurse Jaana Samio-Järvinen is pleased to cooperate with Lojer.
- Half of our patients are palliative cancer patients in pain relieving treatment. They are able to stay at home with the support of home care, but their condition may deteriorate rapidly. In these cases, if a care bed is needed, it should be made available as soon as possible. The patient might get some relief when using different postures with the help of the bed to for example facilitate breathing.
- Lojer has responded nicely to our needs. When we have ordered the bed, the patient has received it on the same or next day.
"When there is a need for a care bed at a home, it is important that the bed is delivered quickly and thoughtfully," says Jouni Maksimainen. 
- Our drivers deliver the bed and prepare it ready for use. We have also trained our drivers to understand the sensitivity of the situation.
Lojer's service allows Helsinki care staff to focus on the most important thing: great patient care. It is an example of a service, in which Lojer offers its customers the most comprehensive service package.