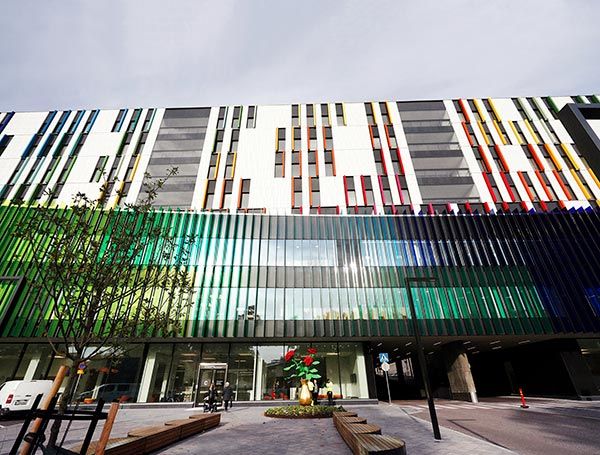 Antimicrobial examination tables for small patients in the New Children's hospital
In September 2018, New Children's Hospital, opened at Meilahti, Helsinki, carries pediatric patients from all over Finland. Patients are from the smallest ones to 15 years old. The treatment of many demanding child diseases, especially cardiac surgery and transplantation, is focus for the New Children's Hospital. Lojer has delivered to the hospital nearly 80 antimicrobial examination tables and over 200 hospital trolleys.
The activities of New Children's hospital have been developed by families and children. The activity is very family-oriented: parents can be around the clock during their child's stay. The goal is to keep hospital time as short as possible, so there is more day surgery, as well as outpatient and day hospital visits. For longer care periods, the hospital has a play and youth unit and a hospital school.
- Our goal is that New Children's Hospital is the world's best children's hospital. It comes from high-quality and safe care, modern and functional facilities, attention to children and families, staff competence and entertainment, and active research, says Pekka Lahdenne, a specialist in pediatric diseases, who has worked as project manager for New Children's Hospital.
- In New Children's hospital, children are not passive patients, but they have been taken into account, for example, in interior design, furniture and window design and digital services development. However, the best thing is that families can be involved in the care of children all the time, even in intensive care.
Examination tables for children
High quality, usability and suitability for the treatment of patients of different sizes have been emphasized in the furniture procurement of New Children's Hospital. Lojer has delivered nearly 80 pieces of 4040X examination tables.
- 4040X is the lowest in the market examination table. It has a height of just 40 cm, so it is particularly well suited for a pediatric hospital: even the smallest patients can easily reach the table. Height can be adjusted up to 95 cm, says Lojer's Sales Director Jouni Maksimainen. Logistics play an important role in the efficient working of the hospital.
Antimicrobial furniture
Lojer 4040X examination tables are antimicrobial. Antimicrobial hospital furniture is used to reduce the risk of cross contamination and improve the hygiene of contact surfaces.
Reducing the risk of cross contamination is of paramount importance to us. It has already been taken into account in the planning of hospital facilities, says Pekka Lahdenne. The body of the Lojer 4040X is painted with an anti-microbial coating, and silver ion technology is used in the upholstery.
- Accessories available with the table include antimicrobial copper or painted surfaces. The clear structure of the table also makes cleaning easier. Adjustment of the table can be done with the help of foot controllers, so the contact with the patient remains uninterrupted and at the same time ensures the smooth running of the treatment, says Jarmo Laakso, Lojer Regional Sales Manager.