Mobile Speed Pulley
The movable pulley device
Main features:
1. Possibility of starting with low weight and setting the weight precisely using one or two ropes
2. Not losing the weight even when doing explosive speed exercises
3. The mobility enables more options f.ex when doing rehabilitation exercises in rehabilitation wards
The movable, lowered Mobile Speed Pulley is a good option when space is limited or wall space cannot be used for attaching equipment. It is also an excellent option for situations where treatment or physiotherapy is to be carried out in wards.  
The extremely smooth pulling mechanism of Lojer Speed pulleys allow even explosive exercise movements – without losing or jolting the weight. Speed pulleys have a very light weight stack - you can start from 500 gram resistance. You can also double the weight by connecting both ropes to one handle.
The Mobile Speed Pulley features a 50 kg covered weight stack (20 x 2,5kg). Pulley is available in matt black or grey.

Technical standard features:
CE–marked medical equipment
Black or grey frame
Extremely sturdy construction
Four castors Ø75 mm with central locking
Two adjustment pins: one for adjusting the height of the rope and the second one acts as a range motion limiter
Two pulling ropes and two handles
Weight stack covered with steel casing for safety
Special pull cord mechanism transforms the outgoing resistance load at a ratio of 1:6 with one pull rope and 2:6 when using two pull ropes (see product card for examples and more information)
The height of the pulling handle and the length of the cord can be adjusted in 5 cm increments
Quiet, smooth resistance across the whole range of movement, and the pulling mechanism allows quick, even explosive exercise movements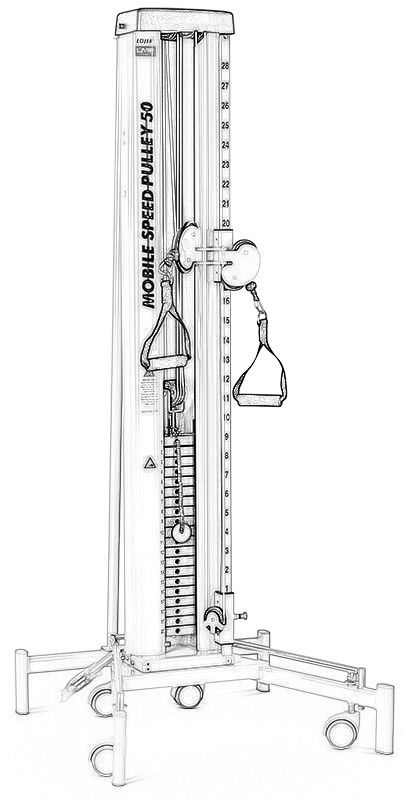 | | |
| --- | --- |
| Overall height | 186 cm |
| Width | 74,5 cm |
| Depth | 77 cm |
| Total weight | 85 kg |
| Frame color | Black/ grey |
| Castors | Ø75 mm, central locking |
| CE-marked | Yes |
| Warranty | 2 / 10 years |
| Country of Manufacture | Finland |
Products from this category