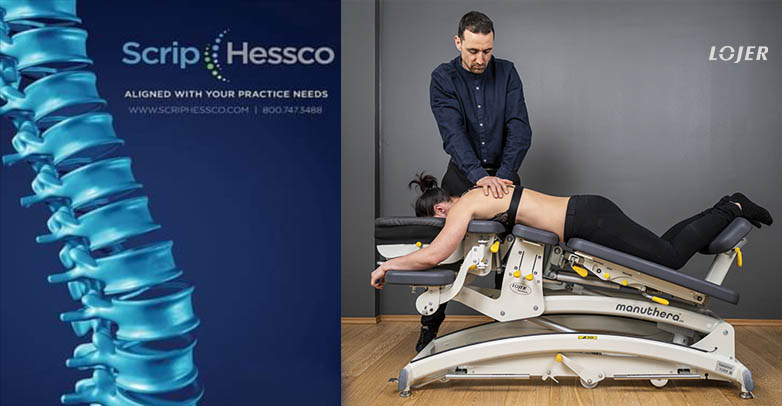 ScripHessco and Lojer Group to a distribution partnership in the US
ScripHessco, leading chiropractic supplies and equipment wholesaler, has introduced Lojer Group's Manuthera© 242 treatment table for the first time in the USA on April 1, 2021. Featuring a unique and patented technology designed by Finnish experts, the Manuthera® 242 table supports the therapist's work and ensures the best possible diagnosis and treatment for patients.
The Lojer-ScripHessco partnership is an important milestone for the Lojer Group in the company's sustained global expansion and its positioning in the US market. In addition to the North American market expansion with the Manuthera® 242 tables, the Lojer Group expects the partnership to bring in new innovative ideas for Lojer Group's future product developments.
"We are very excited to team up with the leading US chiropractic supply distributor ScripHessco. The company has a vey extensive background working with chiropractors for over four decades bringing them the best equipment available. Together we have even better resources in marketing and logistics to serve the chiropractic community in US", says CEO Ville Laine of Lojer Group.
ScripHessco is a division of Scrip Companies; a leading value-added health and wellness products and services company that specializes in distributing chiropractic equipment and supplies, massage and SPA products, physical therapy, and in-home medical supplies. ScripHessco's customers will benefit from the optimized nationwide distribution of Manuthera 242 treatment table supported by a team of knowledgeable professionals; in sales, live-customer service as well as the after-service.
"Scrip Companies is pleased to launch the Manuthera 242 in the United States. We initially evaluated the Manuthera 242 at the Parker Seminars and listened to practitioner feedback.  We believe the product offers significant potential to health care professionals due to its unique blend of flexibility and versatility.  Advanced engineering enables practitioners to provide optimum treatment with minimum physical strain while providing outstanding patient outcomes", says Vice President of Sales Len Tenzer of Scrip Companies. 
***
About ScripHessco
Everything you need. Every day. Scrip Companies is the premier choice for high-quality innovations and high-impact insights to help our partners create better outcomes and healthier tomorrows. For over 50 years the Scrip Companies has been providing value-added health and wellness products and services to healthcare practices and consumers nationwide. For more information, please visit: https://scripcompanies.com/
About Lojer Group
Lojer Group is the largest manufacturer of medical and healthcare furniture and the leading seller of physiotherapy equipment and accessories in the Nordic countries.  The company manufactures products such as hospital beds, operating tables, examination tables and treatment tables in its own facilities in Finland. Founded in 1919, the company employs around 180 people and is Finland's primary employer in its field.  The group turnover is around 40m€. Over 60 % of the company's production is exported and products are used in 115 countries. For more information, please visit www.lojer.com