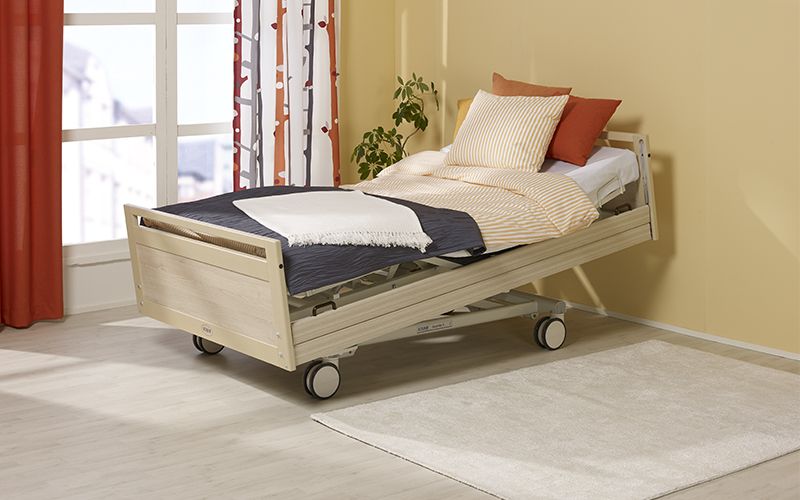 New Nursing Bed for Larger Patients Increases Safety
"The Nursing care is seeing a rise in the need for more sturdy beds"
Lojer has developed a new XL size nursing bed for heavier patients and those who need more space for other reasons.  The maximum patient weight of the specially-sized XL bed is 250 kilos and it features an impressive height adjustment range.  The bed's adjustment capabilities enable carers to find the optimum working position and make activating the patient easier.
"The number of larger size patients requiring nursing care has increased, meaning that the need for sturdier beds has also increased," says Lojer's sales director Jouni Maksimainen.  To meet this need Lojer manufactures the XL bed, which features an increased height adjustment range.  The height of the bed can be adjusted safely even under heavy load.  The height adjustment range is 32-84 cm (can vary depending on the wheels used).
"Versatility in lifting and other adjustments is important in a nursing bed, as it supports the patient's mobility and enables ergonomic working for carers.  The right working positions are significant in ensuring health and safety in the workplace.  The height adjustment range of the XL nursing bed is the biggest on the market," says Maksimainen.
For Home-like Applications
The Finnish-made XL nursing bed offers users homely comfort.  "The width of the bed is 120 cm, which makes it comfortable for the customer," explains product developer Matti Savo.  "The bed is designed to look stylish and the colour scheme features neutral white oak."
The bed's technical innovations improve safety and functionality.  It features a number of adjustment possibilities, making care work easier for the carer.  The sides can be locked in the raised position safely and easily.  The structure of the lower frame and its low minimum height also make it easier to use patient lifting equipment, lightening the workload for carers.  "The wheels move freely and are lockable with one press of the central brake.  This makes it easier to install the bed in smaller spaces," explains Savo.  "The back section sliding mechanism helps find a comfortable position and lessens the pressure on the back," he adds.