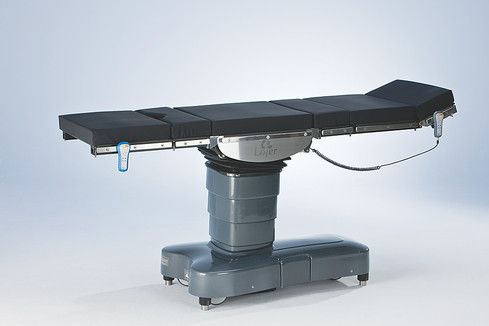 Lojer launches Scandia, universal mobile operating table
Lojer's new operating table ScandiaTM is a modern operating table with highest functionality and versatility for universal surgical procedures. Scandia provides an easy-to-use and cost efficient operating theatre solution with a long life time. Lojer launches Scandia in Medica exhibition in Duesseldorf.
"Scandia is Lojer Group's biggest R&D project ever, and it brings us to the new technological level", says Ville Laine, the managing director of Lojer. "Being easy to learn and use has been our guideline in the development". This realises great in the hand control that has been designed for one hand use, a tight ergonomic grip and clear traditional symbols. Modern touch comes from beautiful backlight and wireless BluetoothTM connection with the table. In addition, each Scandia table has two identical hand control units; cable connected unit and auxiliary wireless hand controller.
Scandia has exceptional capacity, it's Safe working load SWL is up to 350kg, and 250 kg in reverse even with the sliding top out. Still it can be manoeuvred in any direction without effort and it features electric directional wheel or an optional driving motor for added comfort. The ingenious design makes the Scandia easy to access and work with.
For user friendliness, the table's lowest height is only 650mm, and floor clearance 80mm makes it possible for the surgeon to place feet and/or mayo table under the base. The unique (safely covered) floor lock system provides excellent stability.
The new Scandia also offers modular table top for perfect safety and comfort in patient positioning with help of smooth and accurate electro hydraulic adjustments. A number of surgical procedures can be made with versatile table top configurations. Thin, light and easily detachable table top sections assure optimum ergonomics for nursing staff. Optional longitudinal table top sliding provides extra functionality like C-arm access.