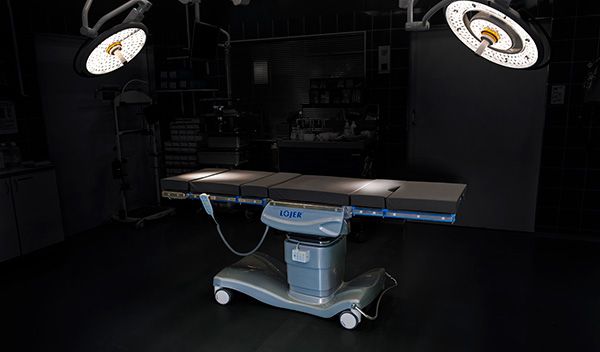 The highest quality operating table in its price range
Lojer has introduced a high-quality, advanced Scandia SC440 Prime operating table. This operating table, which has an outstanding quality/price ratio, is intended for day and short-stay surgery.
"We expect this to become our best-selling operating table. In addition to Finland, it will be sold in Europe, Russia, Asia, and South and Central America. We have already received orders and the first operating tables will be delivered over the next few weeks," says Ville Laine, CEO of Lojer.
The functional design of the Scandia SC440 Prime operating table eases the work of surgical teams and facilitates cleaning and maintenance. Its modular structure and wide range of accessories enable various operating positions and the best possible position for the patient. The accessories play a key role in operations because they enable the patient to be supported in the optimal operating position. Lojer has developed several dozen new accessories, which are also compatible with operating tables made by other manufacturers.
Fulfills customers' wishes
Scandia SC440 Prime operating tables are manufactured in Lojer's factory in Sastamala, Finland. They have a range of advanced features, and heavy investments have been made in the related R&D.
"We began developing the product in 2017 and have carefully fine-tuned the operating table's features to ensure that it fulfills users' requirements. Lojer has never had a product in the electric operating table segment; the new operating table is a response to the requests of end-users and distributors. This will provide them with a one-stop-shop for operating tables of all kinds," says Kari Lammenaho, Product Manager at Lojer.
IoT eases maintenance and technical support
The new Scandia SC440 Prime operating table will also have IoT preparedness, based on which device status can be monitored online.
"This will also facilitate maintenance and technical support in overseas locations, enabling us to 'talk' directly to the equipment without go-betweens," Laine explains.
Decades of experience
Lojer developed and made its first operating tables at the end of the 1980s. It exports around 95 percent of the operating tables it produces, selling them to almost 40 countries and all five continents over the years. The most distant locations include countries such as Chile, South Africa, Peru, Taiwan, Thailand, and Trinidad and Tobago.
"For example, in 2015 we delivered around 70 operating tables and the related accessories to Indonesian public-sector hospitals," says Ville Laine.
Outstanding features
Scandia SC440 Prime has superior features and modularity in the electric operating table segment:
Smart control unit
simultaneous movement of various parts expedites the use of the table
default or customer's programmed positions (e.g. flex and reflex positions)
Functional design
design provides room for the surgical team to work
functional structure assists cleaning and maintenance
low minimum height of 595 mm
Safe Working Load (SWL) 250 kg
Versatility
enables the most common operating positions
electric sliding top
modular structure
wide range of accessories
Made in Sastamala, Finland
ISO 9001 and ISO 13485 certified
all Lojer products are CE marked
Contact us:
Product Manager
Kari Lammenaho
, Lojer Oy, +358 10 830 6783,
CEO
Ville Laine
, Lojer Oy, +358 10 830 6715,