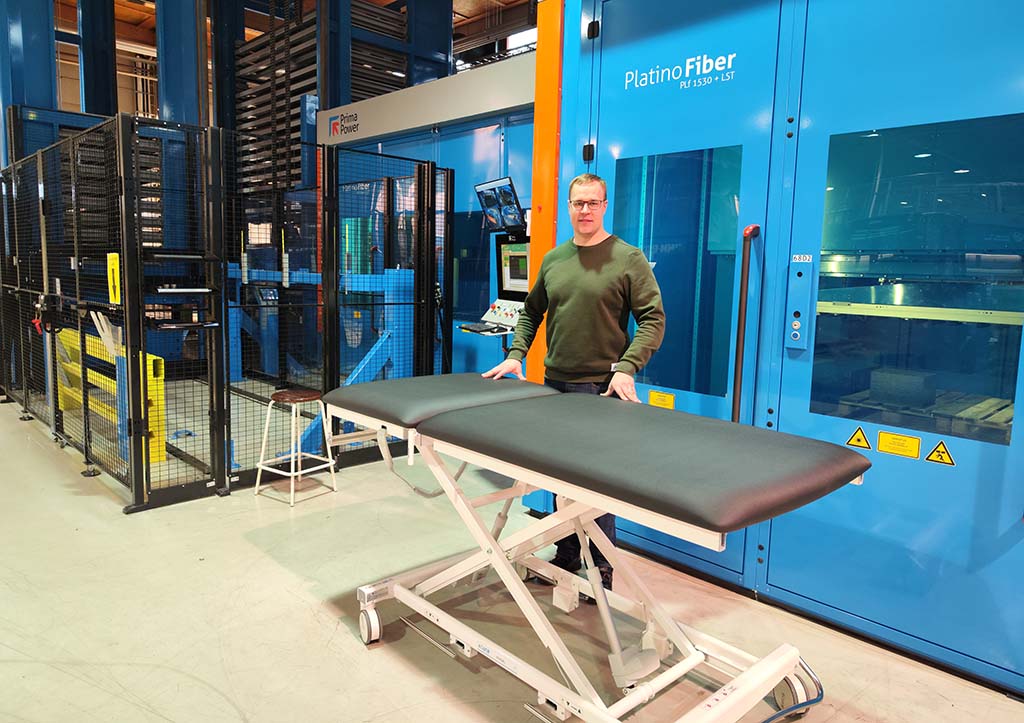 20 % less electricity – a record year at Lojer factories
Lojer, the largest manufacturer of hospital and healthcare furniture in the Nordic countries, has managed to reduce its annual electricity consumption by more than 20 % and in October-January by up to 25 % compared to the previous year. A 360 kilowatt peak solar power plant at the Sastamala factory, which will be commissioned during the spring, will further reduce the amount of energy purchased.
– Everything is based on data: if you do not measure, you cannot improve. We have found the operations, which have the greatest impact on energy consumption. We have optimized the building automation and invested also for energy efficiency of the manufacturing processes. Based on data we can adjust the building energy use just at the time when it is necessary and makes sense, says Eero Kaaja, Lojer Group's Quality and Sustainability manager.
Lojer has saved some 400 000 kWh of electricity in the last 12 months, from February last year to February this year.
– The temperatures in the spring months will determine what savings we can still achieve. We have estimated that by the beginning of April, Lojer's annual savings will be more than 20 %, or around 500 000 kWh.
Lojer has made long-term efforts to improve its electricity efficiency. The company's overall electricity consumption has decreased by 10 % since 2018, despite the growth of its operations and premises: turnover has increased by 65 % and premises by more than 50 %.
– There is a lot of public talk about saving energy in households, but there are also many places in businesses where energy use can be improved.
Energy savings in building automation and production
The savings come from a number of measures, including heating and ventilation in buildings. Numerous improvements have been made to the building automation in Lojer's properties.
– We have developed a building automation system so that ventilation and heating in buildings can be easily and quickly adjusted to suit conditions and needs. For example, ventilation and heating is reduced at night and at weekends when there is no work or occupancy, says Eero Kaaja.
Lighting in buildings has been systematically upgraded with LED luminaires, which are also intelligently controlled according to the presence of people. The energy efficiency of heating has been improved by air-to-air heat pumps and the replacement of electric heaters.
Investments have been made in Lojer's production process, including more energy-efficient laser cutting and material handling. In addition, the operating times and temperatures of the washing machines and painting ovens used in production have been adjusted.
Sastamala factory is energy stingy
The Sastamala factory was expanded in 2019, doubling the size of the factory. At the same time, geothermal heating was implemented and the building automation was completely renewed.
– Today, the 50 000 cubic metre plant in Sastamala is heated by geothermal energy. Although the space and activity of the factory doubled, less purchased energy is used, says Eero Kaaja.
Building and system-specific energy measurement has been added to the building automation system of the Sastamala factory, which enables the precise localisation of areas for improvement. The factory also features efficient heat recovery and self-regulating LED lighting.
Own energy production by solar panels
A 360-kilowatt peak power plant consisting of 930 solar panels will be commissioned on the roof of the Sastamala factory during the spring. The kilowatt peak indicates the peak power output of the solar panels. The solar power plant will generate almost 300 000 kWh per year. This emission-free energy could be used to drive 1.5 million kilometres in an electric car. On the other hand, the resulting emissions reduction is equivalent to the annual emissions of 45 households in the average Finnish household.
– The solar power plant covers about 15 % of the company's total energy needs. On the best days of the summer and on summer weekends, the plant generates more electricity than it needs, and the surplus is sold to the energy company, says Eero Kaaja.
Towards carbon neutrality in operations
Energy saving measures reduce operating costs and are also an integral part of the company's environmental objectives. Lojer aims to achieve carbon neutrality in its operations by 2035. All electricity used by Lojer has been carbon neutral since 2011.
– We actively develop our operations and contribute to society's goals to reduce energy use, for example by participating in the 'Down A Degree' energy saving campaign. At Lojer, energy efficiency, clean water saving, improved waste management and sustainable use of resources are important ways to reduce our carbon footprint and achieve carbon neutrality, says Eero Kaaja.