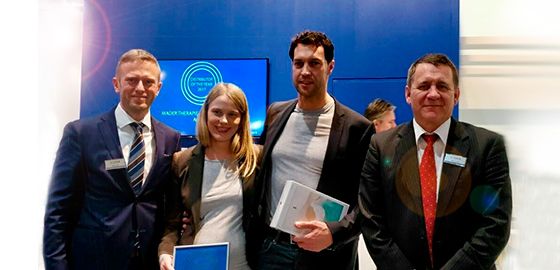 Distributor of the year 2017
Lojer's distributor of the year was announced at Medica exhibition in November. The annual prize is presented in appreciation of sales excellence and performance. The race for 2017 was tight and there were many good candidates. But after all the choice was pretty clear.
The distributor of the year 2017 is Mader Therapie | Medizin | Fitness from Austria. The company's annual revenue of Lojer products has grown in just two years to a level, in which the company now has a PREMIUM DISTRIBUTOR status, despite the fact that there are only two employees in the company.
The couple Mader have passionate will to grow together with Lojer - the company is changing its name to MADER Medical Systems to represent their offering better. In the beginning the company sold merely Lojer's physiotherapy products and at present the range also includes clinical equipment,  f.ex. Lojer operating tables. In addition, the company's employees have participated in service training in Finland making sure that they can fully execute the tasks Lojer is expecting from its distributors to take care of. 
Thank you to all of our distributors! And congratulations once again to Mader Therapie | Medizin | Fitness. 
If you are interested in becoming a Lojer distributor - please be in touch with me and let's see how we can help.
Mr. Pekka Koski
Export Director
Tel : +358 10 830 6720