Main features:
1. Three double wheels allow easy manoeuvring and rotating the table in position
2. Small hand controller that can be used with one hand
3. The sections of the 6-part top can be easily changed according to the needs of different procedures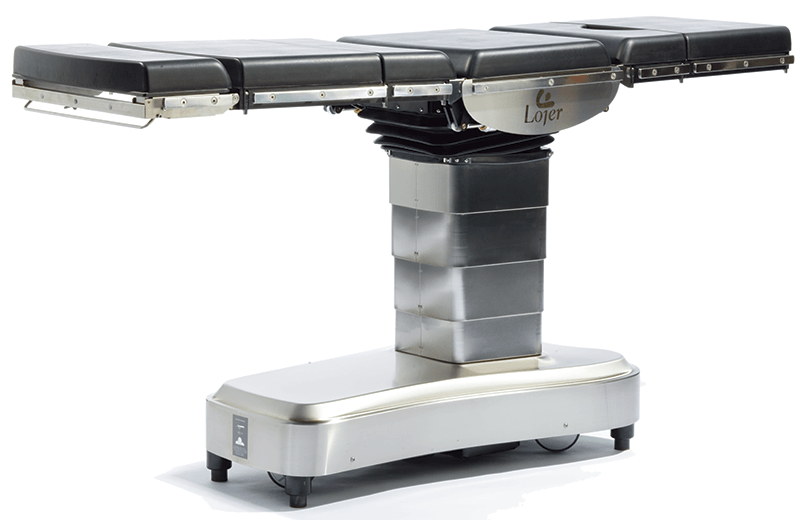 About
The Scandia is a modern electro-hydraulic operating table offering market-leading functionality, adaptability and design.  The Scandia operating table is suitable for all types of surgical procedures.  The Scandia is a reliable, easy to use long-term solution for the operating theatre.
The modular table top has been designed to follow the joints in a person's body, providing optimum support for whatever surgical procedure is taking place.  The table is height adjustable between 650 - 1010 mm, and the optional sliding top makes it even more adaptable to different kinds of procedures. 
Two hand controllers and Bluetooth
Every Scandia operating table is equipped with two hand controllers.  One of them can optionally be replaced by a wireless Bluetooth controller. Clear, logical symbols ensure the correct selection of functions, even in challenging working nvironments. The mobile phone-sized hand controller is designed for single-handed use; its ergonomic design and materials are top quality.
Excellent ergonomics – flexible Adjustments and easy adaptability
The electrical adjustment of the modular table top works smoothly and precisely, guaranteeing total comfort and safety for both patient and healthcare staff.
The different parts of the table top are easily changeable into different configurations, depending on the position requirements of different surgical procedures.
The thin, light construction of the table top allows safe, ergonomic and obstruction-free working for healthcare staff. Optional sliding table top allows procedures such as full body C-arm scans to be carried out safely and easily.
The lowest height setting (just 650 mm) is exceptionally low, but still leaves enough space under the base for the feet or for a Mayo table.

Maximized load capacity, stability and manoeuvrability
The safe working load (SWL) and the lifting capacity of the Scandia can be found from the technical data section. The large weight capacity facilitates operations on particularly heavy patients, which are becoming more common.
The ingenious design of the Scandia creates an ergonomic, free working environment. Its unique locking base mechanism makes the Scandia an extremely stable operating table.
Moving and transporting the Scandia is effortless, thanks to its three balanced double wheels and the optionally available electric direction wheel or motorised wheel.
Scandian's brilliant design ensures free and ergonomic working conditions.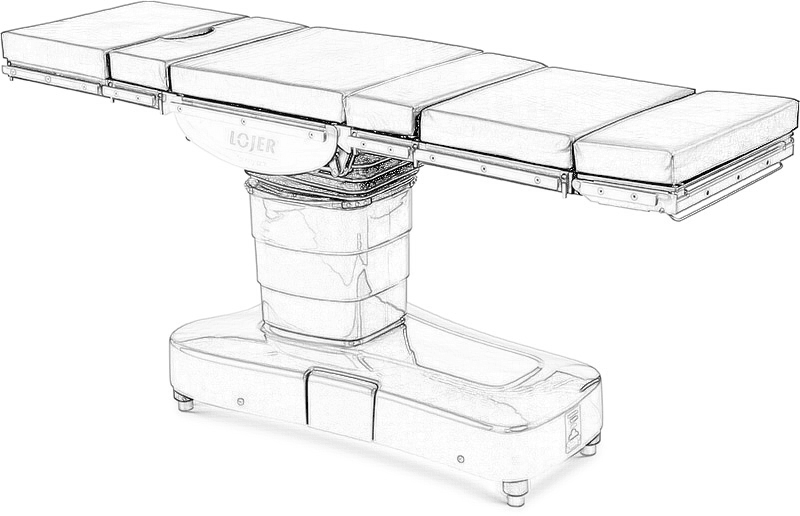 | | |
| --- | --- |
| Total length | 2070 mm |
| Width | 550 mm (615 mm with side rails) |
| Safe working load (SWL) in normal orientation | 350/ 280 kg (depending on assembly) |
| Safe working load (SWL) in reverse orientation | 250 kg |
| Lifting capacity | 454 kg |
| Total weight | 260 kg |
| Castors | 3 x 125 mm |
| Floor clearance | 20/ 80 mm |
| Height adjustment | 650 - 1010 mm |
| Trendelenburg/Anti-Trendelenburg | 30°/ 30° |
| Lateral tilt (right/left) | 20°/ 20° |
| Back section (up/down) | 70°/ 35° |
| Foot section (up/down) |  90°/90° |
| Head section | +26°/ -58°, can be raised 135 mm |
| Flex / Reflex | 220° / 120° |
| Slide (optional) | 300 mm |
| CE-marking | Yes. The Scandia Operating Table SC330 complies with the following standards: IEC 60601-1, IEC 60601-2-46 ja IEC 60601-1-2 |
| Warranty | 2 years |
| Country of Manufacture | Finland |