Main features:
1. Modern and eye-catching design and anatomically shaped upholstery enhance patient comfort
2. Four pre-programmed positions and one freely programmable position
3. Adjustable multi-function armrest (height and angle adjustment and rotation)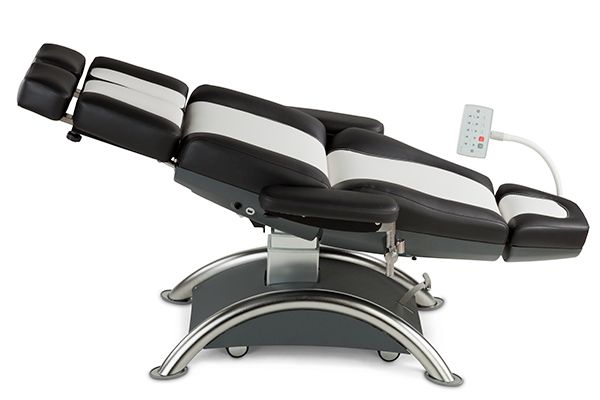 About
The luxurious Capre multipurpose chair has been designed together with surgeons to fulfil the demands of today's healthcare processes in post-day surgery recovery. The chair is used instead of the traditional hospital bed in order to improve patient vitality during recovery. The Capre chair features pleasantly contoured upholstery, individual adjustment possibilities (with up to five motors) and built-in comforts, such as a tablet pc stand and reading light. All of this combines to improve patients' quality of life during recovery, while also improving the quality image of the healthcare facility.
The control system allows the independent adjustment of the chair height, back section, seat angle and leg sections. The leg section is split and motorised. Both the head section and the split leg section also feature a length adjustment mechanism. The chair features a Trendelenburg position as well as three pre-programmed treatment positions (chair, beach chair and flat lying surface) and a user memory position in which the customer's own settings can be stored. If needed, the chair can also be set to either lying down or resuscitation position by one press of a button.
Due to its modular design, the chair is also suitable for dialysis and cytostatic treatments, and as an examination chair.

Technical standard features:
Luxurious anatomically contoured upholstery
Two colour options for the plastic parts: white or dark grey
Design castors for moving the chair, centrally lockable
Intelligent control system with pre-programmed positions
Trendelenburg-adjustment
Motorised adjustment of back, leg, seat angle and height adjustment with hand control with flexible arm or spiral cable
Mechanical head section length and angle adjustment
Split leg section with length adjustment
Arm rests stay horizontal regardless of back section angle
Versatile arm support with angle and height adjustment and 180° rotation of arm rests
Central locking castors Ø 75mm
USB charger
Safe, quiet 24V electrical system, USB charger
Multiple upholstery colors and several high-quality upholstery materials available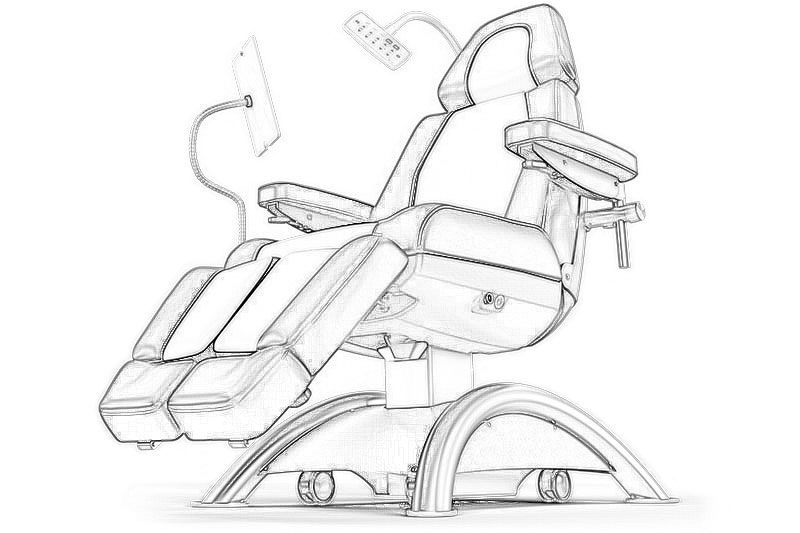 | | |
| --- | --- |
| Total length | 186 or 213 cm |
| Height adjustment | 60 - 85 cm |
| Castors | 75 mm, central locking |
| Back section adjustment | -14° to +90 |
| Head section adjustment | 10° |
| Back section length | 600 mm |
| Seat adjustment | 14° |
| Seat width | 620 mm |
| Total width | 880 mm |
| Leg section adjustment | -80° to 0° |
| Arm support adjustment | 0° to 180° rotation, -45° to +20° angle |
| Safe Working Load (SWL) | 160 kg |
| USB output | Power 4W |
| Electrical system | 24V |
| CE-marking | Yes |
| Warranty | 2 years |
| Country of Manufacture | Finland |
Products from this category