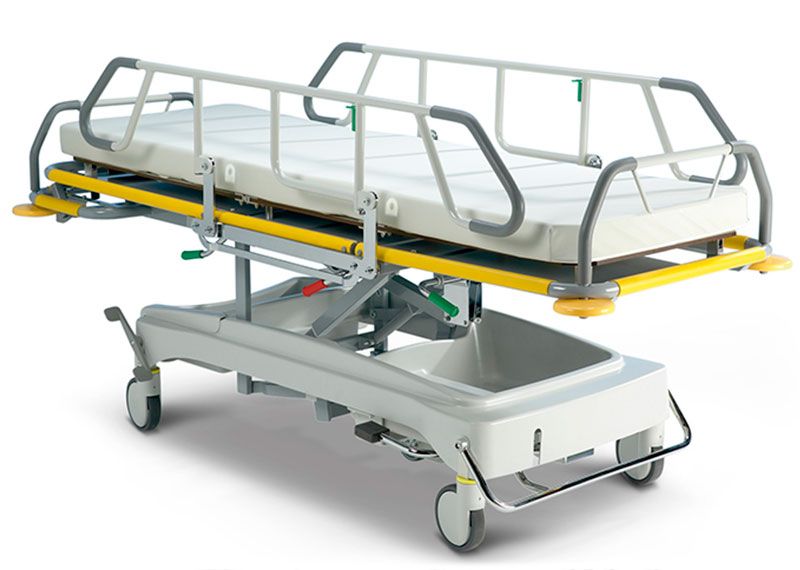 Merivaara Emergo Patient Trolley
Versatile and very popular patient trolley for different needs
Main features:
1. Modular structure that allows several different configurations
2. Clear and easily controllable functions
3. It is easy and light to carry out different care positions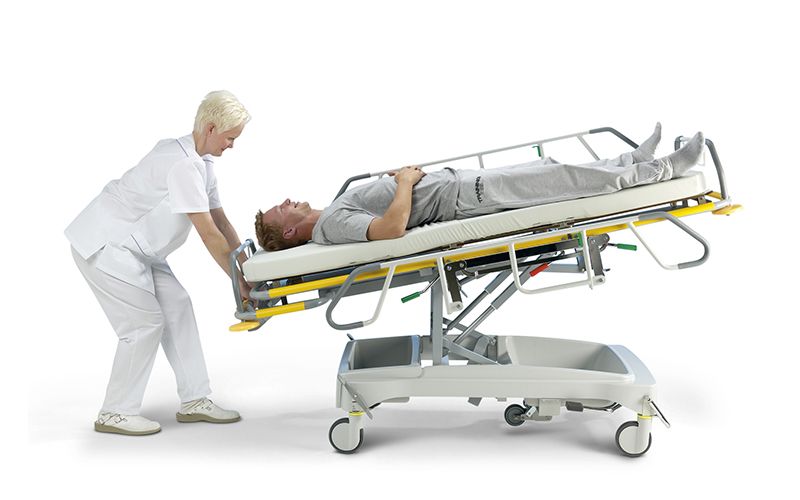 About
The multipurpose Emergo patient trolleys (stretchers) are used for patient transportation, emergency, recovery, ICU and minor procedures. The safe and sturdy construction makes it ideal for heavy use.
The versatile range of options and adjustments ensure efficient patient transfer, patient comfort and ergonomic working positions for health-care staff. The adjustable mattress base provides comfortable positions for patients to recover eliminating unnecessary patient transfer from the trolley (e.g. in sitting position). Large, easy rolling castors provide excellent mobility and the optional fifth wheel improves overall mobility reducing the strain for the staff. Emergo has many attachment points for the IV-rod and other accessories. The wide range of accessories available will serve the demanding needs of nursing staff for many years.
The Range
6250: 2-part bed section with hydraulic height adjustment and gas spring assisted Trendelenburg and back section
6270: 2-part X-ray bed section with hydraulic height adjustment and gas spring assisted Trendelenburg and back section
6280: 2-part X-ray bed section with subframe, hydraulic height adjustment and gas spring assisted Trendelenburg and back section
6350: 3-part bed section with hydraulic height adjustment and gas spring assisted Trendelenburg, back section and leg section
6370: 3-part X-ray bed section with hydraulic height adjustment and gas spring assisted Trendelenburg, back section and leg section

Technical standard features:
Yellow bumpers in each corner
Pedals for height adjustment on both sides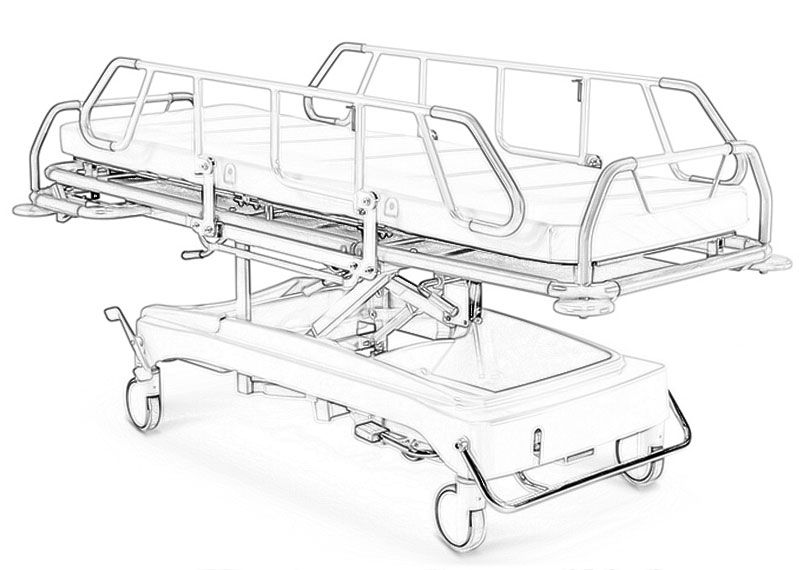 Model
6250
6270
6280
6350
6370
Base sections
2
2
2
3
3
X-ray platform
No
Yes
Yes
No
Yes
Subframe for equipment
No
No
Yes
No
No
Width
750 mm
750 mm
750 mm
750 mm
750 mm
Patient surface width
705 mm
705 mm
705 mm
705 mm
705 mm
Length
2075 mm
2075 mm
2150 mm
2075 mm
2075 mm
Recommended mattress size
650 x 1950 mm
650 x 1950 mm
650 x 1950 mm
650 x 1950 mm
650 x 1950 mm
Height adjustment
560 - 930 mm
625 - 995 mm
625 - 995 mm
560 - 930 mm
625 - 995 mm
Safe Working Load (SWL)
225 kg
225 kg
225 kg
225 kg
225 kg
Trendelenburg
14°
14°
14°
14°
14°
Anti-Trendelenburg
7°
7°
7°
7°
7°
Back section adjustment
0 - 70°
0 - 70°
0 - 70°
0 - 70°
0 - 70°
Leg section adjustment
-
-
-
0 - 45°
0 - 45°
Castors
Central locking,
antistatic 150 mm
Central locking,
​antistatic 150 mm
Central locking,
​antistatic 150 mm
Central locking,
​antistatic 150 mm
Central locking,
​antistatic 150 mm
Country of manufacture
Finland
Finland
Finland
Finland
Finland
CE marked
Yes
Yes
Yes
Yes
Yes