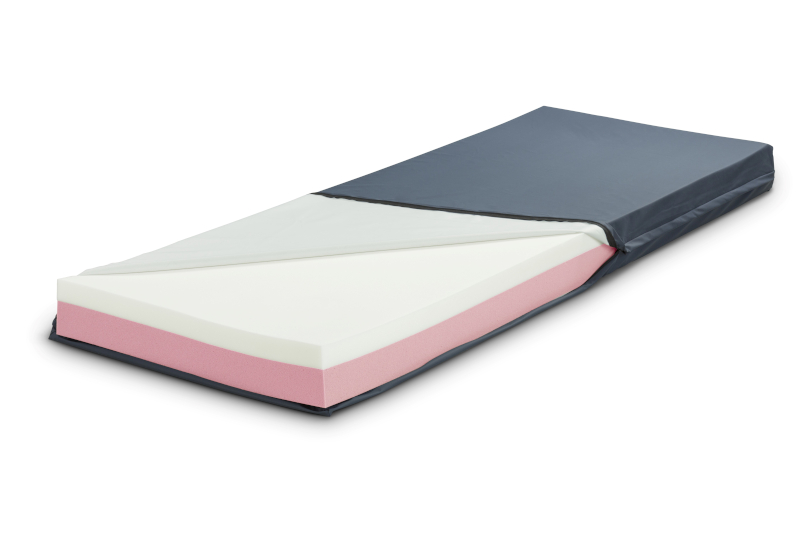 HighCare antidecubitus mattress
High quality static antidecubitus mattress designed for the prevention of pressure ulcers in patients at low to medium risk 
Features:
Upper layer thickness 5 cm, density 50 kg/m3, viscoelastic foam

Base layer  thickness 8 cm, density 50 kg/m3, flexible foam

Fire retardant

Weight recommendation less than 200 kg
Hygiene cover:
Polyurethane coated polyester hygiene fabric

Non-permeable to liquids

Breathable

Antimicrobial

Oeko-Tex certified

Fire retardant

Flexible in two directions

Drop flap for zipper protection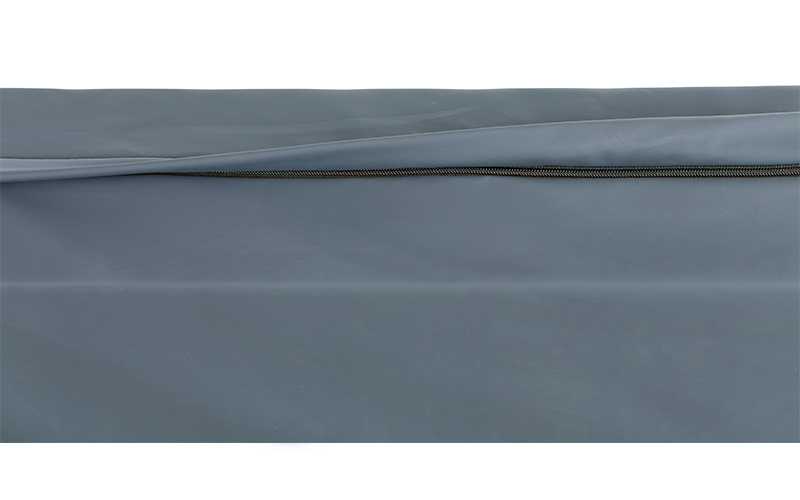 HighCare is a high quality static antidecubitus mattress designed for use as a sleeping surface for the prevention of pressure ulcers in patients at low to medium risk of pressure ulcers in f.ex. hospitals, nursing homes and home care. The mattress should be used as part of a pressure ulcer prevention programme. The weight recommendation is less than 200 kg.
The 5 cm thick upper layer of the mattress is a fire-retardant, softly mouldable visco-elastic foam (density 50 kg/m³) that equalises tissue pressure to prevent the development of pressure ulcers. The 8 cm thick base layer is a fire-retardant and durable rigid foam, HR foam (density 55 kg/m³), which supports the patient and eases postural support and patient movement. The two foam layers are glued together and have a total thickness of 13 cm.
The mattress hygiene cover is a polyester hygiene fabric coated with polyurethane, which is impermeable to liquids but still breathable. The material is Oeko-Tex certified, bi-elastic, antimicrobial *) and fire retardant. The zipper is protected by a drip flap to prevent moisture from entering the inside of the hygiene cover. The cover can be machine washed at 70-95°C when turned inside out. 
HighCare Rescue: The HighCare antidecubitus mattress is also available with a rescue cover. The fixed rescue cover is designed for rapid evacuation of the patient for example in case of fire. Rescue cover's upper side is made of the same material as the hygiene cover and the base material is a non-slip, water-repellent Oeko-Tex certified polyurethane coated polyamide. The rescue cover has integrated pull handles at both ends. The long sides have their own Velcro straps for patient restraint. All straps are in their own pockets and therefore do not interfere with bedding. The rescue cover can be machine washed on a delicate cycle at 70°C. 
The HighCare mattress is a Class I medical device in accordance with the Medical Device Regulation 2017/745 (MDR) and is CE marked. The mattress is manufactured in Finland by Vevia Finland Oy.
*) tested according to ISO 22196, the active biocide is dimethyloctadecyl(3-trimethoxysilylpropyl)ammonium chloride EU 528/2012
The mattress is available in sizes:
75x200x13 cm
80x200x13 cm
85x200x13 cm
78x205x13 cm
88x205x13 cm
78x215x13 cm
88x215x13 cm
118x205x13 cm

Thickness
Base layer 8 cm
Upper layer 5 cm
Density 
Base layer 50 kg/m3
Upper layer 50 kg/m3
Recommended patient weight
Under 200 kg
CE-marked
Yes
Country of Manufacture
Finland