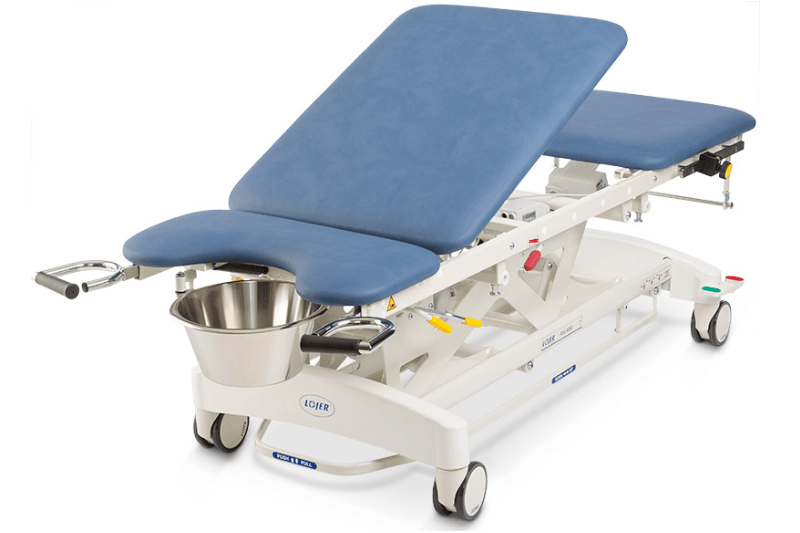 Afia 4050M Gynaecological Examination Table
Ease of use, even in the most demanding environments
Main features:
1. Centrally lockable and directional lockable double wheels: 17% lighter to manoeuvre and 95% more sturdy
2. Electrically operated hands-free height adjustment from all sides of the table
3. Stepless, gas spring assisted seat section height adjustment 0 - 15°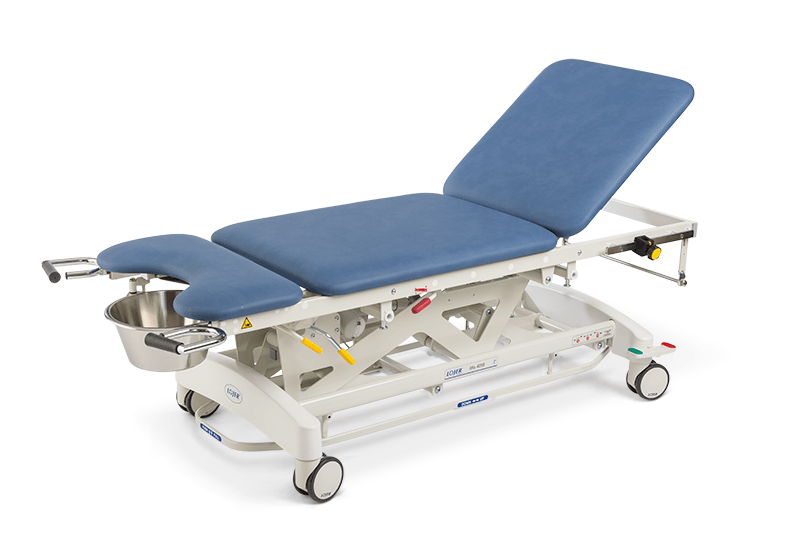 The Afia 4050M table is designed for demanding use in examinations and procedures. The most versatile examination table in our range, the Afia is particularly well suited for use in gynaecological examinations.
The unique electrical height adjustment with a 360° height adjustment foot bar is hygienic, ensures optimum working height at all times and brings added safety when moving the patient.  Stepless adjustments using motors and gas springs make work significantly easier for staff.
The sturdy construction means the table can support a patient weighing up to 200 kg (SWL). Special attention has been given to manoeuvrability; Afia examination tables feature centrally lockable and direction-lockable hospital castors.

Technical standard features:
Electrical table top height adjustment with 360° foot bar
Hand controller
Electrically adjusted upper back section
Gas spring assisted lower back section adjustment
Gas spring assisted stepless adjustment of seating angle
Adjustable heel supports
Centrally locked double castors
Bowl, can be turned to the side
One accessory bar 10x25mm, one accessory clamp
Paper roll holder
Multiple upholstery colors and several high-quality upholstery materials available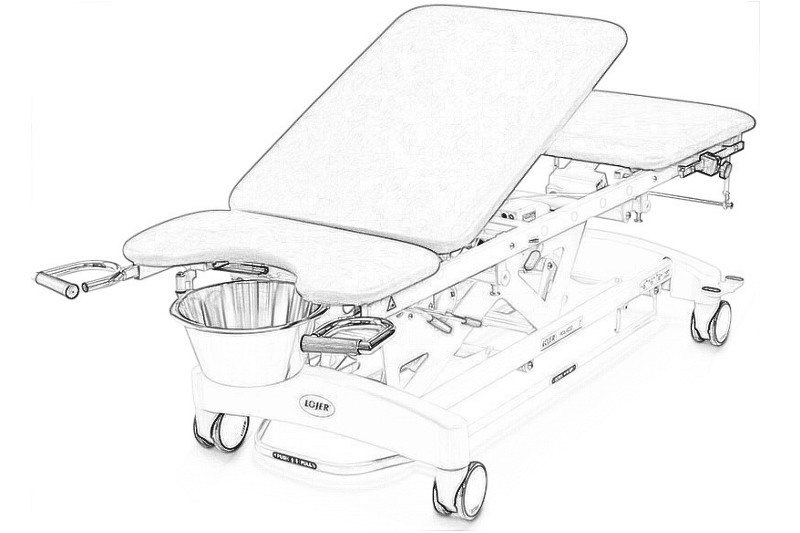 Total width
65 cm
Total length
193 cm
Height adjustment
49 - 94 cm (or 51 - 96 cm)
Back section length
68 cm
Back section adjustments
78°
Middle section length
87 cm
Middle section adjustment
45°
Seat adjustment
15°
Trendelenburg adjustment
(T-model)
17°
Double castors
Ø125 mm twin castors (Ø150 mm as an option)
Total weight
110 kg
Safe working load (SWL)
200 kg
Electrical system
24V
CE-marking
Yes
Warranty
2 years
Country of Manufacture
Finland
Products from this category