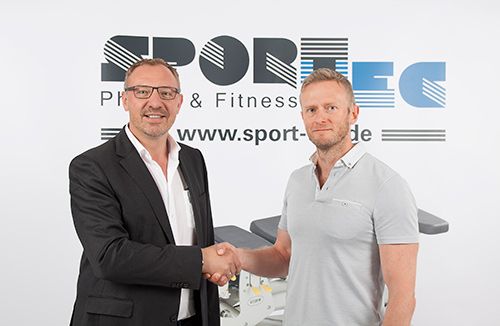 German Sport-Tec and Lojer Group to an exclusive distribution partnership
A leading Europe-wide physiotherapy and fitness sector retailer Sport-Tec takes over the exclusive distribution for Lojer's physiotherapy equipment in Germany starting from January 1. The represented products include, for example, manual therapy treatment table Manuthera©, Capre-series treatment tables and other therapeutic tables. In addition to the distribution partnership, the agreement includes the acquisition of all services for Lojer's broad portfolio. As part of this, Sport-Tec will be responsible for technical support and spare parts service.
The exclusive partnership is an important milestone for Sport-Tec in the company's sustained expansion and positioning in the market. Furthermore, the partnership gives the opportunity to bring in new ideas for Lojer product development. Respectively, Sport-Tec customers will benefit from significantly faster and optimized services for orders and services of Lojer products, since Sport-Tec can now offer everything from a single source.
"Our customers repeatedly confirm the outstanding quality and user-friendliness of Lojer's high-quality treatment couches. Therefore, we are very pleased that we can now intensify our long-term successful partnership with the exclusive distribution rights", enthuses managing owner Manfred Motl of Sport-Tec.
"For 25 years Lojer has been in the German market that is known to be one of the most demanding physiotherapy markets in the world. We are excited to partner with Sport-Tec as these two growth seeking companies have even better resources in marketing and logistics for the German customers", says CEO Ville Laine of Lojer Group.
About Sport-Tec
Sport-Tec Physio & Fitness is one of Europe's leading mail-order companies in the physiotherapy and fitness sector. The company, founded in 1995, employs 40 people at its headquarters in Pirmasens, Westphalia. The product range is aimed at physiotherapy, occupational therapy, speech therapy and specialist practices, hospitals and REHA clinics as well as resellers. In addition, Sport-Tec serves customers in sports physiotherapy, massage and wellness and fitness-oriented consumers. Orders are placed either via a 376-page catalogue or via online shop. Around 80 percent of more than 10,000 different products are kept permanently in the modern 6,000 m² warehouse in Pirmasens. For more information, please visit https://www.sport-tec.de